Summit
In-Memory Computing Summit North America 2018
October 2-3, 2018 at the Hyatt San Francisco Airport
"Join the in-memory computing community for two days of learning and networking. Hear from users, vendors and industry experts about best practices, emerging use cases, and the latest technology solutions at the only non-vendor-specific in-memory computing conferences in the world."
Join Neeve Research as they present on:
 - How IMC Powers Next Generation Trading - Kevin Goldstein:
  Tuesday, 10/02/2018 - 11:00 am
- Powering Digital Transformation with IMC – Becky Wanta:
  Tuesday, 10/02/2018 - 11:55 am
- Real-Time with AI – The Convergence of Big Data and AI – Colin MacNaughton:
  Tuesday, 10/02/2018 - 1:45 pm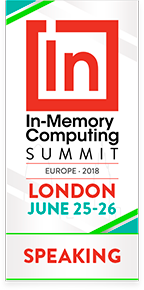 CIO Insight Summit
October 29 – 31, 2018 at the Chateau Elan in Atlanta GA
"Taking place from 29th – 31st October at the wonderful Chateau Elan in Atlanta, the US edition of our CIO Insight Summit will bring together senior IT decision-makers and business leaders from across North America to share experiences, discover new ideas, and discuss the hottest topics in tech.
The summit program will focus on key themes such as: innovation and digitalization: separating from the pack; the CIO forecast: emerging tech and trends to integrate into your strategy; and infrastructure and operations: strategic, tactical and organizational challenges 2018.
From case studies that lift the lid on operations inside best-in-class organizations, to workshops and collaborative sessions that focus on real challenges and future technology innovations, to one-to-one meetings with industry peers offering practical advice tailored to your specific needs, the summit provides you with everything you need to implement your key projects more effectively."
Webinar
Real-Time With AI – The Convergence Of Big Data And AI
October 18, 2018 at 1 pm ET | Noon CT | 10 am PT
Big data is moving to a new stage of maturity — one that promises even greater business impact and industry disruption over the course of the next few years. As big data initiatives mature, organizations are now combining the agility of big data processes with the scale of artificial intelligence (AI) capabilities to accelerate the delivery of business value.
Join Colin MacNaughton, Head of Engineering at Neeve Research and Subu Sankara, VP of Software Services at Synerzip as they discuss how the convergence of big data with AI has emerged as the single most important development that is shaping the future of how firms drive business value from their data and analytics capabilities.